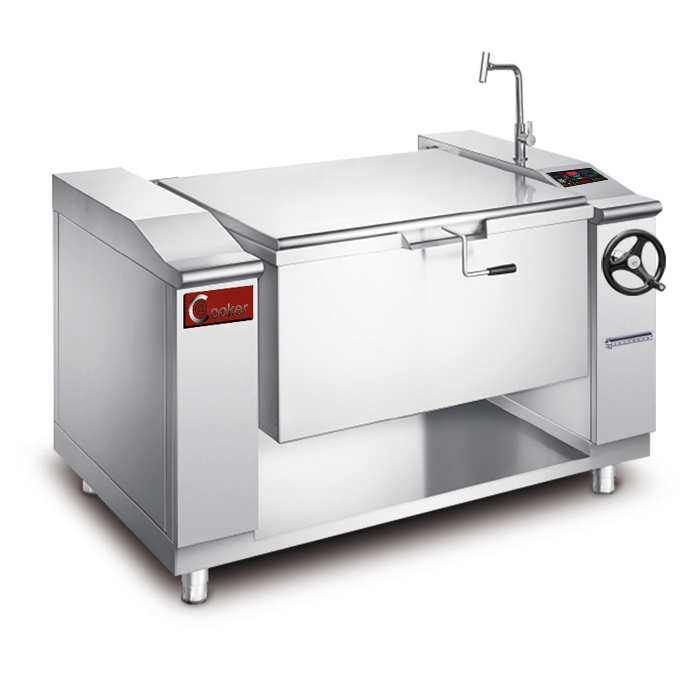 For Noth America
Three-Phase
208V/ 240V, 380V, 480V
For Europe, Australia and Asia
Three-Phase
380V, 400V, 415V
| | |
| --- | --- |
| Manufacturer | AT Cooker |
| Item No. | ATT-ABT BT |
| Maximum Power | 15 KW/ 20KW |
| Number of Barrels | 1 Barrel |
| Warranty | 5 years |
| Barrel size | 80L/ 15 KW, 120L/ 20 KW |
| Size | 125 × 90 × 90 cm |
| AI | Auto fault detection |
| Controller | Sensor switch |
| Timer Setting | 10-hr. digital countdown |
| Temp Setting | 194 ℉ – 572℉ |
| Process | Braising | Frying | Blanching | Sauteing | Boiling | Heating | Steaming |
| --- | --- | --- | --- | --- | --- | --- | --- |
| Products | Meats | Vegetables | Goulash | Meat stew | Sauces | Dressings | Other Foods |
1 heating areas for fast output
High power supplies almost twice the effecience of a traditional gas hob
304# stainless steel house is easy to clean
Easy to supply heat fast when it 's most needed
Functional and small profile is perfect for event catering
Sensor control, LED display of power level
Floorstanding, easy to move
Temperature settings
10-hr. digital countdown timer
Stainless steel housing is strong and rust-resistant
Anti-high temperature warning
Anti-low/high voltage warning
Anti-dry heating warning
Anti-overheating warning
Induction tilting bratt pan
Automatic fault detection
Powerful internal cooling fan and overheat protection for long service life
Product Size 125 × 90 × 90 cm
Pan Size: 80 L / 120 L
Max Power:  15KW/ 20 KW
Power Level: 8 Levels
Voltage: 208V/220 V,  380 V, 3 Phase
304 stainless steel body
Ambient temperature: from -5° C to +40° C
No flame, and no gas leaks.
High temperature up to 180° C
The power and energy high-tech of the AT Cooker LARGE Commercial induction tilting Bratt pan, 15KW/ 20 KW.
The heat is focused where it's needed and the commercial kitchen room is more cooler and comfortable.
This large tilting Bratt pan capacity is from 80 L(15 KW) to 120 L (20 KW). If you need customized capacity,  we can make totally follow your detail requirements,  please feel free to contact us. It can help you make soup fast. And twice the power of a gas burner, and a bigger, faster and safer function when even more power is needed.
Designed for safety, AT Cooker's cooking equipment also comes with a pan detection function that cuts power when no pan is present, cutting kitchen running costs and keep a safer, more comfortable commercial kitchen.
Why Choose this Tilting Bratt Pan ATT-ABT BP
AT COOKER commercial Tilting Bratt Pan is designed to easily make foods without wasting unnecessary water or energy.
Thanks to its design, this steamer can be installed in any busy commercial kitchen, restaurant, hotel, airport, etc!
Three levels for the Max Power Supply!
This Commercial Tilting Bratt Pan is a freestanding appliance and can be used in peak period busy restaurant/ hotel kitchens or for outside one-off events, airport, hospitality catering, etc.
The Maximum power can be 15 KW/ 20KW/ 25KW/ 30 KW. Please choose which is the best for you. 8 power functions and 1o hr timers. Designed as 3 phase and commercial voltage.
What's so special about AT Cooker's commercial kitchen cooking equipment? Someone says they are more expensive than traditional gas tops. But they don't say bratt pans are much more energy efficient.  Air conditioning and ventilation costs are reduced a lot because heat is focused in the pan, where we want it, and the heat is not wasted on the stove surface and in the air around those equipment.
Thanks to the designs, via the rotary control knobs – which has an LED display – temperatures and powers can be precisely and speedily controlled. We can also set any temperatures that we need.
This large Tilting Bratt Pan features to cook meats, soup, sources, and more. Designed specifically for commercial kitchen use, this Tilting Bratt Pan is made of heavy-duty stainless steel.
8 power settings so you can set the ideal power for almost any food. It adjusts automatically to prevent Bratt pan from boiling dry or overheating. Its large pan holds up to 120 L of foods, and it is easily removable for cleaning and maintenance
AT Cooker, just for a better life. We help commercial kitchens save our time and money a lot. Contact us now.
Electric Bratt Pans: A Necessary Commercial Kitchen Tool
If you're in the market for a new commercial kitchen appliance, you might be wondering what type of equipment is necessary to outfit your kitchen and help you prepare meals more efficiently.
One appliance that is essential for any commercial kitchen is an electric bratt pan. In this article, we'll discuss the features and benefits of electric bratt pans so that you can decide if this is the right appliance for your needs.
A bratt pan is a heavy duty pan that is used for cooking meats and vegetables.
It is usually made of cast iron or stainless steel and has a flat bottom with high sides. The pan is named after the German word for "stew", which is what it is typically used for.
If you operate a commercial kitchen, then you know how important it is to have the right tools for the job. Electric bratt pans are one of those necessary tools that can make your life a lot easier. Here are some of the benefits of using an electric bratt pan:
1. They evenly distribute heat, meaning your food will cook more evenly.
2. They're large enough to accommodate big batches of food, making them ideal for busy restaurants.
3. They have adjustable temperature settings, so you can find the perfect setting for whatever you're cooking.
4. They're easy to clean, thanks to their non-stick surfaces.
5. They're durable and built to last, meaning you'll get years of use out of them.
If you're looking for a versatile, durable and easy-to-use commercial kitchen tool, then an electric bratt pan is a great option.
If you have a commercial kitchen, then you know that an electric bratt pan is a necessary tool. But how do you use one? Here are some tips:
1. Preheat the pan to the desired temperature. This is usually done by using the control knob to set the temperature.
2. Place your food in the pan. Make sure that the food is spread out evenly so that it cooks evenly.
3. Cook the food according to your recipe or desired cooking time. Remember to adjust the cooking time if necessary based on the amount of food you are cooking.
4. Once the food is cooked, remove it from the pan and serve immediately.
If you're looking for recipes that will make the most of your electric bratt pan, look no further! We've gathered some of our favorite recipes that showcase the unique capabilities of this kitchen tool.
From searing steaks to frying chicken, these recipes will have your electric bratt pan working overtime. So fire up that burner and get cooking!
Commercial bratt pans are a necessary tool for any kitchen that wants to serve large quantities of food quickly and efficiently.
With their ability to heat multiple dishes at once, bratt pans can help you get food to your customers faster and with less hassle.
If you're looking for a way to improve your kitchen's efficiency, consider investing in a commercial bratt pan.