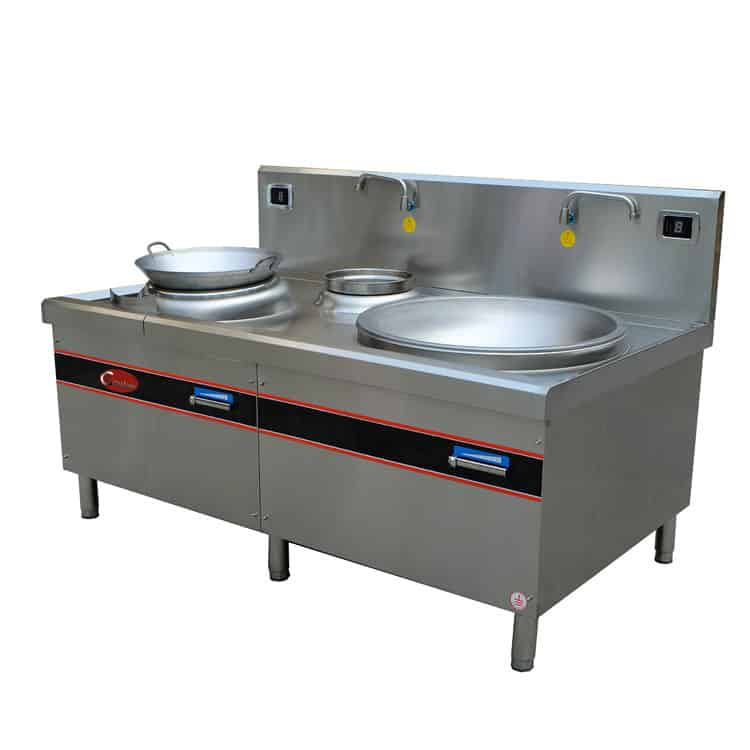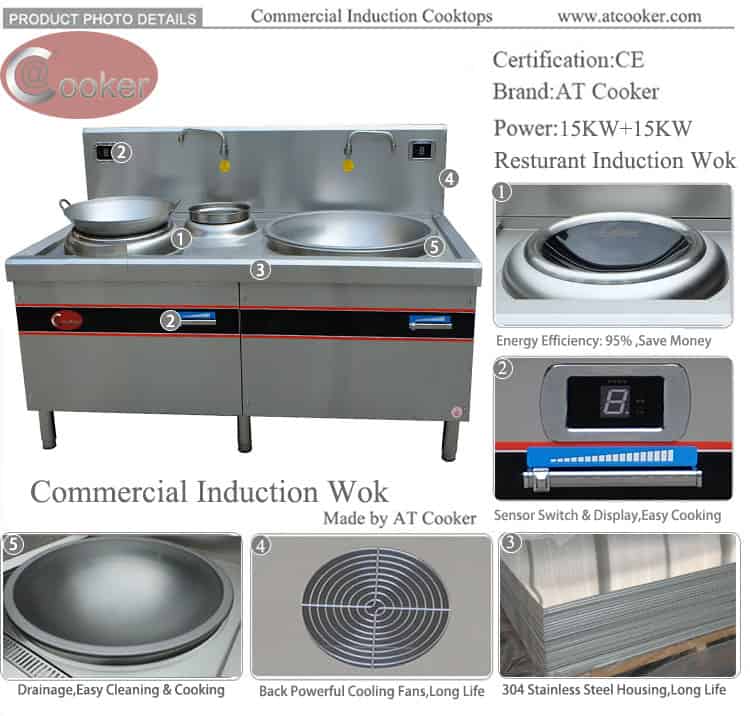 professional wok burner
professional wok burner
◆Power controller: Sensor
◆Power level : 8 power level
◆10cm high throw pots still had firepower
◆Pot can moved
◆Automatic filling water
◆Real-time power display
wok restaurant equipment
Product size
1800x1100x1200mm
Packing size
1900x1200x1350mm
Power supply 15kw+15kw
wok restaurant equipment
Save money in long time
◆Efficiency: 90% -95%
◆304# stainless steel body
◆More efficient, longer life
Quicker cooking
Take less time to cook food
More safer
professional wok burner
wok restaurant equipment
◆No flame, and no gas leaks.
◆Anti-high temperature warning
◆Anti-low/high voltage warning
◆Anti-dry heating warning
◆Anti-overheating warning
◆Automatic fault detection
Quicker cooking , less-wasteful, safer and better cooking is great.
2000+ restaurants & 20+ distributors from 30+ countries choose AT Cooker. Why do they prefer us so much? How do they feel after get our equipment and service? There are some reviews from regular customers.
AT Cooker's equipment will help you to supply the healthier foods to your customers. Commercial induction cooking is the fast way to make foods. It has so many advantages. It is the safest way of cooking and no pollution. To the restaurant owner, it will save your money in long time. See what they say.
I have used many of cooking equipments in the last few years. I have used more expensive name brands, and these AT induction ranges are just as good!
I bought them for our customers, they are quite satisfied with the cookers and pots, Chris is a good person to contact!
These cooktop are great for any kind of cooking. Shipping is a perfect , they came to me before Christmas ! Quite nice!
Works great. Definitely worth the money.
This turned out to be the perfect cooking solution for our new restaurant. We love it!
Love these induction stoves! We are never able to find these locally and they work great for our sauces and wet items.
They are more beautiful than the picture, woks are working fine, love it!
This is a great induction single stove. Easy to use. You have to use pans that will hold a magnet.
I often use cast iron. Has 8 levels. It would be nice if the lowest level would go a bit lower as the simmering liquid will still splatter on the countertop.
But it's very quick and the temp adjust immediately and the unit itself does not get hot. The price was great! Highly recommend!
This is a great product for our business. I would recommend this product and the Choice line to anyone.
This is my second time order .first I received is fast and good quality so I can back order again ,very good for soup cooking.
This item was a great addition to my buffet service. Not only attractive, but easy to use by the guests. The food served in it just looked even better!
I bought this rang with oven for my Sushi restaurant, perfect in working. delivery is fast to Middle East.
Great price for a great product! Will continue to purchase this induction cooktop.
This built-in cooktop is awesome! Very pleased with it.
professional wok burner wok restaurant equipment
Perfect for commercial kitchens or for display cooking in banquet halls, buffets, and cruise ships, the professional wok burner induction delivers superior energy efficiency and fast heating in any application! AT Cooker is a leader of wok restaurant equipment manufacturers.
This professional wok burner features a recessed ceramic bowl to accept wok pans and a rotary switch for easy control, allowing you to make delicious stir fry dishes and other Asian cuisine with ease.
Because there is no open flame, this unit allows much cooler working conditions, and is also much safer to operate than traditional woks.
Its pan detection system shuts off the heat source when the wok pan is removed, and it adjusts automatically to prevent pans from boiling dry or overheating.
A stainless steel body provides superior durability, and thanks to its legs, you can be sure this unit will remain reliably sturdy during use.
professional wok burner wok restaurant equipment