Turn over orders faster than ever with this great commercial pasta cooker. This automatic pasta cooker uses induction to heat water and cook any type of pasta to perfection every time. No matter you have a small or large amount of space in your restaurant kitchen, AT Cooker can supply a professional pasta cooker that will suit your needs. This restaurant pasta cooker also comes with a wide range of capacities (23 L/ 35 L/ 108 L/ 180 L), you can accommodate your volume of sales. This commercial pasta cooker is 1 tank / 4 baskets / freestanding style, AT Cooker also provides 6 baskets / 9 baskets and 2 tanks units, and countertop pasta cookers (4 baskets).
Looking for a quicker way to service your customers? Try this automatic pasta cooker with digital controls! As the best commercial induction pasta cooker it will provide significant energy cost savings ( energy efficiency 90 -95%), improve the working environment (more safer, no flame, and no gas leaks), and deliver a superior, more precise cooking experience (easy to control, easy to clean). Each basket can time alone, different time for different food, or same time permanent. The baskets raise/ down and stop automatically follow as your setting time. AT Cooker's induction cooking equipment will save your money in the long time.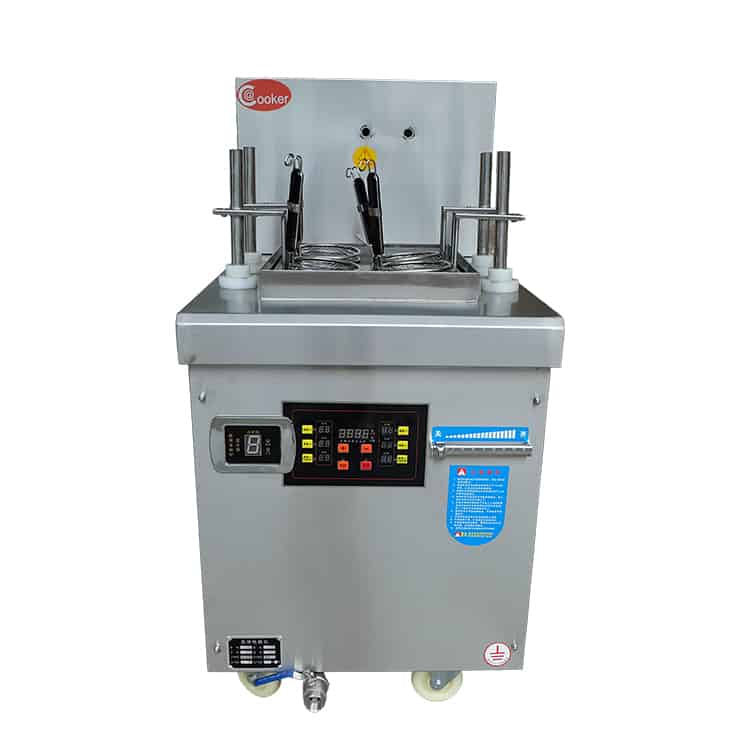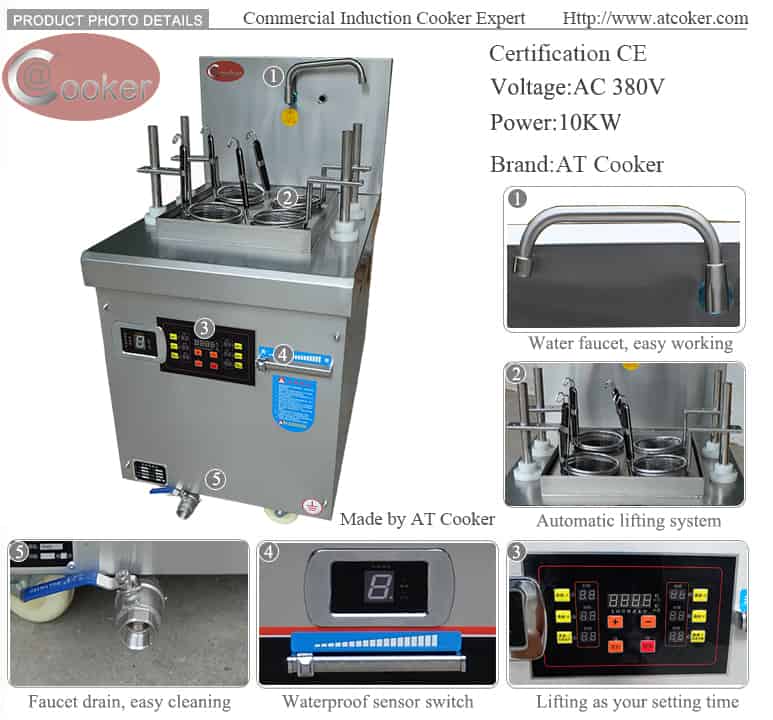 ◆With 304# stainless steel body
◆Energy efficiency: 90% -95%
◆Real-time power level display
◆Real-time temperature display
◆Faucet drain, easy to clean
◆Power supply:8 KW (or 12 KW)
◆Controller: Sensor switch
◆Power level : 8 power level
The baskets raise and stop automatically follow as your setting time.
Product size
500×800×950 mm
Packing size
600×900×1100 mm
Tank size
340×340×300 mm
Net capacity:35 L
Each basket can time alone, different time for different food, or same time permanent